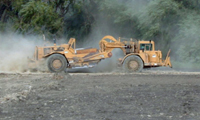 The Clublands, Phase I
Client: Neumann Homes, Inc.
Engineer: Manhard Consulting, Inc.
Description: Complete site development, excavation, grading, sewer water and storm line installation, road grading for 4-phase residential development.
Sedgebrook Retirement Community
Client: Weis Builders, Inc.
Description: Mass earthwork and building excavation package on a 92-acre site including dewatering and excavation of 500,000 CY from a 26-acre lake along the Des Plaines River.